Insurance
A Pathway to the Future

How the Insurance Industry is Using Hackathons to Drive Innovation

Hackathons are increasingly being used by industry as a tool for innovation, and even insurance, an industry least known for its innovative practices, is getting in on the act. Lucy Ingham discovers how hackathons are playing a central role in transforming this once dusty industry
Right now, the insurance industry is undergoing a slow but radical transformation in the way it does business. Having traditionally avoided customer contact wherever possible, it is now looking to engage customers, even when a claim is nowhere to be seen.
"The traditional business model of insurance is to have no contact; no customer wants to have contact, no customer wants to be ill or have a car accident; nobody wants an insurance company," explains Olaf Tidelski, chief customer officer of Allianz Germany.
"But in a digital and a customer world, we want to have contact, because we know from all customer satisfaction surveys that contacts are really driving willingness to recommit."
Given the value in customer contact, the insurance industry has been issued with a challenge: how does it engage customers that don't need to make claims? The answer lies in digital products that provide value to customers, while in many cases also reducing their chances of needing to claim on their insurance, resulting in the emerging insurtech industry.
"Digitalisation helps us to create new customer journeys, and new contacts, and we want to be much more relevant to the daily life of our customers," says Tidelski.
But this digital approach creates a need for new skillsets and fresh mindsets, which cannot always be easily met by the creation of new departments in a large corporation. As a result, the hackathon is emerging as a valuable way to inject innovation into an often very traditional field.
How digital creates a new type of insurance company
One of the key goals of this new approach to customer interaction is to attract loyalty from low-claims groups, such as young people.
"Think about younger people and insurance: you have no contact for years because you're happy, so it's much more interesting for us to think about how we can be a partner in your life, even if there's nothing, no insurance case," says Tidelski.
This mentality has already produced a number of products within the insurtech industry, such as US-based Oscar's use of wearables to encourage healthier lifestyles among their customers.
"They do prevention; they give nice watches, trackers and stuff like this to be in the daily life of their customers, and they attract younger people," he explains.
Another example is an app created for the German market by Allianz that is designed to help resolve the lack of healthcare options on weekends.
"We developed a health app, and it's not only about paying the bill, it's much more about 'hey I need a doctor, its Saturday in the evening, shall I go to the hospital, shall I wait?'" summarises Tidelski. "Now we've developed in the app a 24/7 doctor on call, which has been nice."
"Think about younger people and insurance: you have no contact for years because you're happy, so it's much more interesting for us to think about how we can be a partner in your life​​​​​​​."
Such products have put Allianz ahead of the crowd on digitisation, a result of a commitment to this new approach that has driven major operational changes.
"Allianz was one of the first insurance companies to understand that there is a different perspective that you have to have from all the other insurance companies," explains Sebastian Becker, a senior consultant at zeb consulting.
"We are 127 years old, Allianz Germany, so we are used to building waterfalls and silos and stuff like this, and now it's changing a lot, we're changing our architecture, we have a campus now in Munich North, and we have a digital factory right over here, so we bring together people in different silos to work together as one team from market management, from IT, from product owner, and what we've also changed is to have direct feedback from our customers," says Tidelski.
Hackathons are fuelling insurance's innovation drive
One of the core approaches to this new digitalisation has been to involve smaller companies with new ideas, particularly startups that are agile enough to experiment in a manner large insurance companies cannot. But start-ups alone don't always lead to valuable innovation, which is where hackathons come in.
"Companies understand ok, we have to change our perspective from a bank's or insurance company's perspective to a customer's perspective, and this is actually what hackathons are for because the only thing that comes in is: 'ok, how does the customer use the screens, use the apps' and so on," explains Becker. "Here it doesn't matter if you make any profits, if there's a business case, they don't care, so it's just about the customer perspective."
For Allianz, hackathons have been a step beyond working with start-ups, allowing ideas to be more fully developed.
"We do startup weekends, and we took part in some startup events, but the teams develop only ideas, they come to present powerpoint slides, and only a few might develop that," explains Andreas Weber, department manager of market management at Allianz Germany.
"Here it doesn't matter if you make any profits, if there's a business case, they don't care, so it's just about the customer perspective."
"The difference between a startup weekend and a hackathon is they really build something: they have to code a platform, for example apps or microsites, websites, things like that, and that is the new challenge.
"So on the one hand it's very interesting which ideas might increase our opportunities, but to see how teams are able in 30 hours to program a whole website, a whole application, that is very interesting for us."
Hackathons not only allow new ideas to emerge at a stage where they don't need to be immediately profitable, but also enable fresh talent to be discovered that would be less likely to emerge through a traditional recruitment process.
"That's why we are doing hackathons: to find partners, and to recruit new people, new talents," explains Tidelski.
#_hacknext: a blueprint for insurtech hackathons
Despite their benefits, hackathons remain a relatively new presence in the insurance industry. In Germany, for example, they have only come into existence this year, with Allianz's first, #_hacknext, held in March as only the second ever held in the country's insurance sector.
Attended primarily by teams of professional developers, with the exception of one student team, the hackathon took place over 30 hours, culminating in a series of three-minute presentations and two-minute question and answer sessions by each of the 17 teams.
Held at Werk1 in Munich, a former potato factory that hosts a startup incubator and co-working space, #_hacknext was a self-consciously cool affair, with a dubstep-backed launch that jarred slightly with the focus of the assembled developers. But it certainly generated enthusiasm from the representatives from the insurance industry.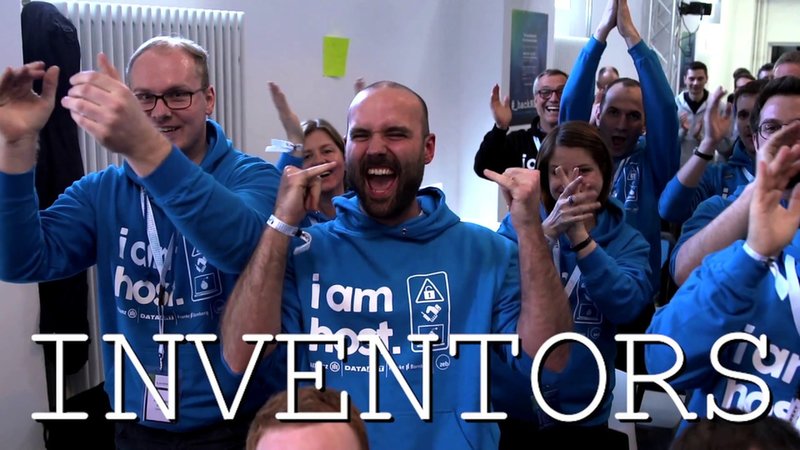 "We hope to find some inspiring ideas, and not just the next insurance product," said an excited Weber at the event's launch. "It's very, very exciting for us to follow up those two days."
"I think it's a lot of fun: it's so much fun sitting down there, and after 30 hours you have a new app on your phone; it's so great," added Becker.
Their enthusiasm, however, was well placed, with the event producing numerous promising products.
Images courtesy of Allianz Germany